MotoGP tests Misano J2 Fabio Quartararo (Yamaha/1): "The most difficult thing is going to Aragón with the 2022 bike", etc. (Full)
Wednesday, September 7, 2022, Fabio Quartararo answered the questions of journalists from the Misano World Circuit – Marco Simoncelli at the end of the second day of the official MotoGP test, which he finished in 1st position.
The leader of the French championship says that he is satisfied with what he tried to see in 2023… And regrets not using this new machine before! El Diablo, which made its debriefing at noon, did not comment on the new aerodynamics that were tested in the afternoon.
As usualwe report here the words of Fabio Quartararo without any formatting, even if it is partially translated (using you in English, you in French).
---
Fabio Quartararo : " I'm glad we confirmed that the engine is a big improvement. This morning I got a good slip behind Franco and the top speed was really good. So very satisfied! This morning we worked on the electronics because the behavior of the engine was different. Now it's difficult to know something because of the circuit, because I did 1'31.3 with a 26-lap tire, so at the end you put a new tire and you don't feel it's new wheel. But I'm very satisfied because I feel that for the first version of the prototype, I ran very well and it looks good. »
Is the good top speed due to suction or engine power?
" Of course, 298 km / h is due to a slipstream, but in general the average we have done today is good. Of course, 298 km / h is not every lap but just one lap, but if you look at the average it is good. The wind has also changed, so compared to others, it's good to see that our top speed has improved quite a bit compared to this year. »
Is this the final version of the engine or are they still developing it?
" They want to improve, so of course I don't say no (laughs) if they have room for improvement. I don't think it's bad because it's only September and there are a few months left before the pre-season tests in Portimão, so we still have Valencia and Portimão. We still have some testing to do and hopefully the speed will be higher. »
Does the engine still have Yamaha DNA, especially at low revs?
" Yes. The character has changed a bit but I'm not worried. Of course, it is still necessary to work a little on the first part of the acceleration because the bike is more lazy than aggressive: That is what we worked on this morning, while this afternoon I think we will try an aerodynamic one, then we will concentrate on the adjustment. »
Luca Marmorini is here: Have you spoken to him?
" Not specifically with him, but when I finish a run, we always have headphones on and I talk to everyone. So he paid a lot of attention. He was one of the first people I saw who was completely inspired. In the group, the faces do not express "well, we did it! but faces that say "we want to improve". So it gives a very good team atmosphere and it's good to see all the person who concentrates like that. »
Is it important to see it on the box?
" Yes. When I was young, I used to say "why isn't he there?" but in the end I know that even if it's not in the races I know that it works very well and it's good to see that the first stage of the engine is a good development so I hope they succeed in making one more step. »
Can we say that you have confidence in Yamaha again after a difficult period?
" (Sigh) The difficult thing is going to Aragón with the 2022 bike (laughs). This is the hardest thing. I never lost faith in Yamaha but I had a lot of doubts, and that's why it took me so long to renew. But before we had any upgrades we tested the engine and I felt that they really wanted to make a big change so when I signed the contract I felt confident that they wanted to change -o. They seem to have done it now, and as I said before, the faces of the team are saying 'OK, progress is good but we want more'. And that made me more confident. »
Have you followed Marc Márquez?
" No! I don't see anyone today. Just Pecco with rain tires (laughs). He didn't want to use his tires for the next GP, where he did some laps with rain tires. »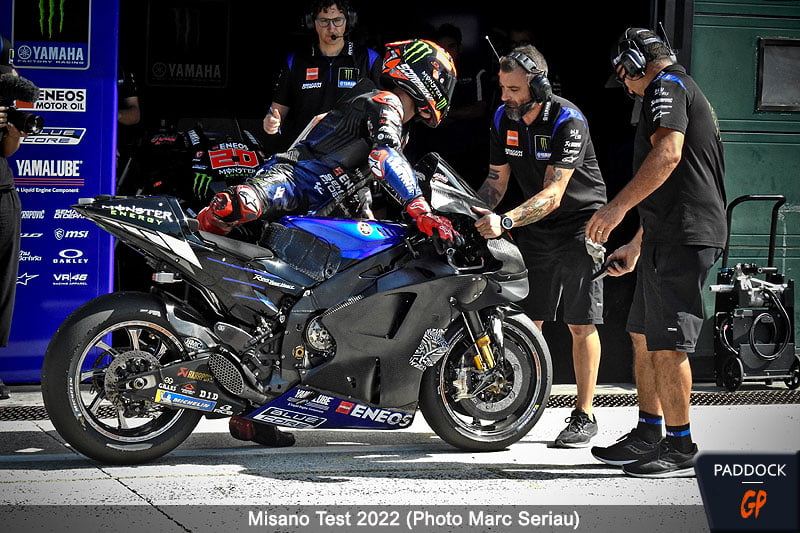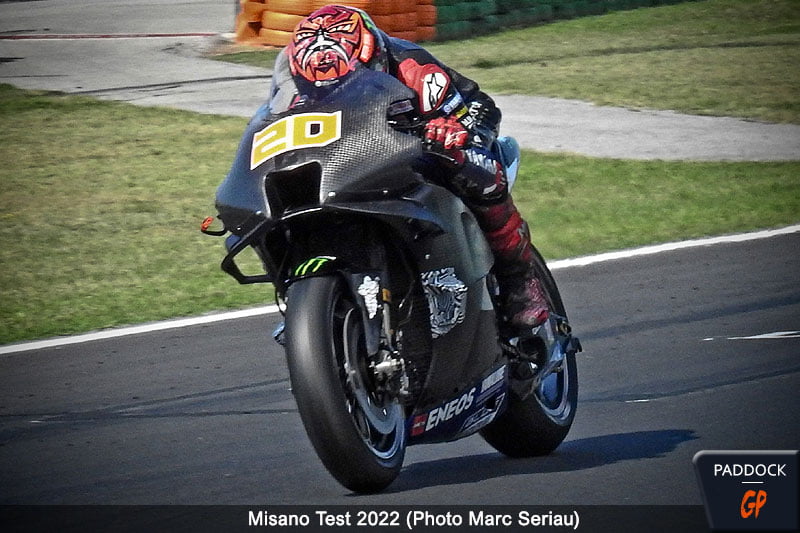 The combined results of the 4 half days of the MotoGP test at Misano: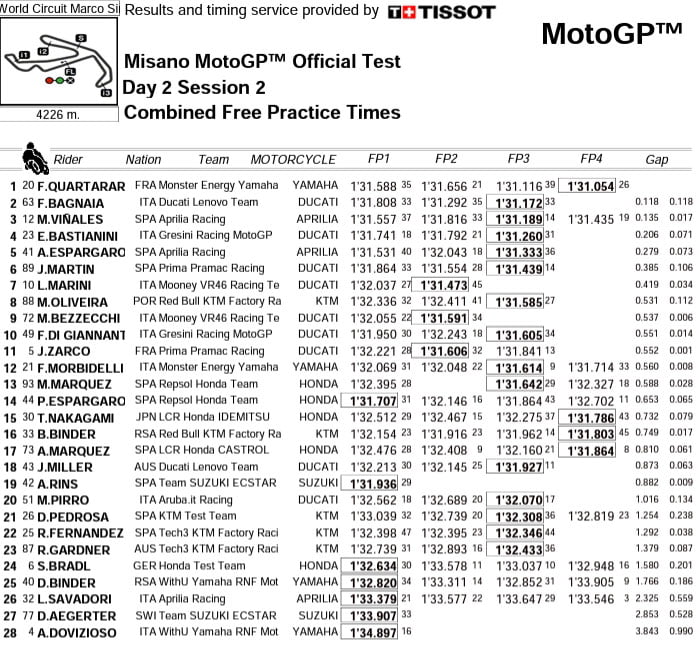 Ranking Credit: MotoGP.com